Focused exclusively on the personal care and daily lifestyle categories, we also provide retailers of all sizes with the merchandising expertise needed to maximize sales and reduce costs. Whether you run a chain of large-scale supermarkets or a single family-owned store, our team of distribution and category management specialists can integrate and manage all aspects of your health & nutrition, beauty care, and general household segments. The result is greater profits in these important high margin categories and more time for you to focus on the rest of your business.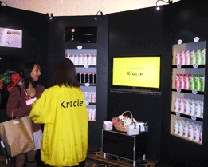 PMAI is commited to three core values:
Creating innovative retail solutions.
Developing opportunities through in depth market analysis.
Providing exceptional supply chain management.
Appealing Product Line
PMAI offers a comprehensive range of personal care and healthy lifestyle products representing many of the leading Japanese brands. We now carry more than 3,000 items and utilize sales data analysis and efficient space management techniques to support retailers in optimizing their product selection.
Strong Ties with Manufacturers
Building on our founders' broad experience in the manufacturing industry, PMAI has direct access to marketing and product research, which gives us a great advantage over our competitors. As a category management specialist, we are able to provide the latest and most popular products from Japan.
Creating Opportunities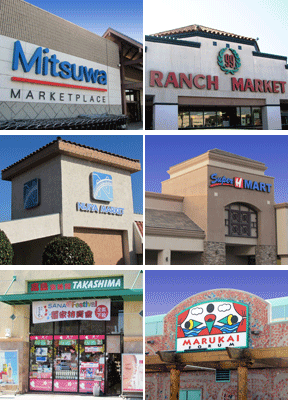 PMAI plays a fundamental role in advancing supply chain management. We continually research the latest merchandise and consumer behavior. This information is communicated to Japanese manufacturers and is jointly analyzed to develop innovative new products that respond to consumer needs and create opportunities for client retailers.
PMAI Information System
The PMAI information system was designed to optimize efficiency and to promote integrated business solutions.
Highlights include:
Real time information on inventory, receiving, shipping and sales
Barcode-verified ordering and warehouse management systems
Easy data access for comprehensive sales analysis
Retail space management optimization and recommendations
Effective and timely promotion planning and recommendations
Synergy with JFC
In 2007 PMAI became a member of JFC International Inc., a leading distributor of Japanese foods in Asian-American communities as well as the mainstream market.
PMAI benefits greatly from the synergy with JFC Group by utilizing its tremendous resources, including a nationwide marketing strategy and firmly established sales channels. In addition, PMAI also has access to JFC's marketing and merchandising database, IT system, Quality Assurance methods, and logistic systems.
Marketing & Category Management
Maximize your sales & profits with a comprehensive merchandising strategy
For best results, each product category should be viewed as a separate business unit, requiring its own unique sales and marketing strategy. PMAI fulfills this need by integrating strategic marketing and category management with advanced distribution services. As category specialists, we provide the full-service merchandising expertise you need to maximize revenue and profits in your personal care and daily lifestyle business.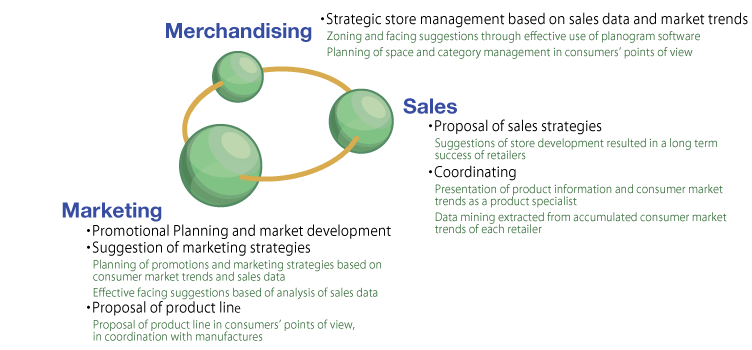 With a comprehensive plan of action customized to fit your store and your customers, you'll see immediate results – and measurable, long-term benefits.
Shelf Display Consultation
We offer consultation for shelf displays to utilize every inch of the shelf for maximum increase in sales
Easy Access to Database
We provide easy access to the database for use in ordering, promotion, inventory, import/export and sales reports.
PMAI's PDA order entry system and barcode-based operation is utilized to attain the highest level of accuracy in order processing. This information system makes possible quick and precise tracking of inventory and shipments, maximizing warehouse performance along the chain of distribution. These efforts result in accurate and efficient shipping and inventory management.
Use of hand-held PDA devices with PMAI's barcode-verified ordering and warehouse management system eliminates human errors, and provides convenient, multi-lingual packing slips and invoices.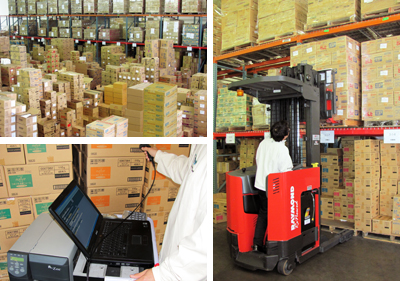 PMAI's warehouse management system and continual analysis of market and historical sales trends anticipate inventory needs.
We offer various ordering options that provide real-time inventory and shipment information. Whether ordering on-site with our visiting sales representative, by phone, or electronically using EDI or on the Web, you can be sure that your order will lead to timely and accurate delivery.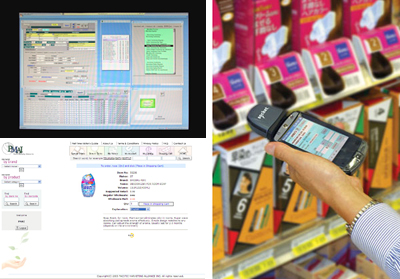 We promptly scan items we receive for JAN/UPS barcode to determine the most efficient storage location. This provides quick and acurate picking instructions during shipment, allowing us to maintain a delivery error rate below 0.000001%.